PEERS® for Preschoolers
Overview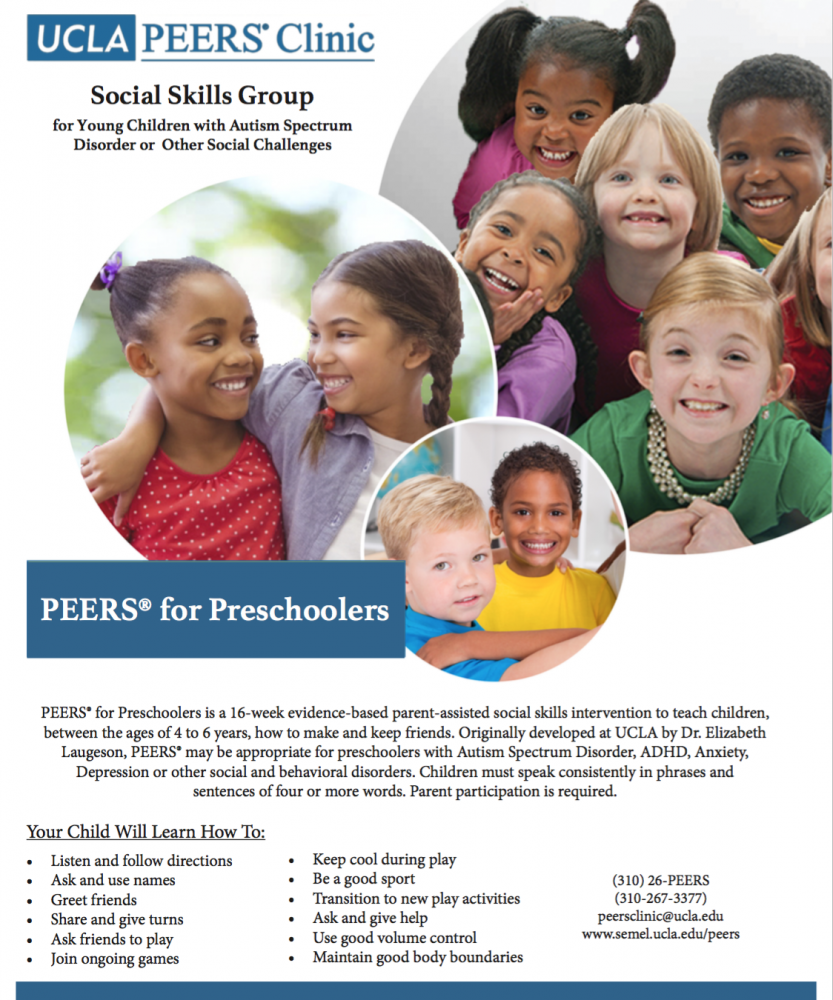 Enrollment is limited. Group instruction is provided in English. Regular attendance is imperative. Parent participation is required.
Groups begin every 16 weeks, and enrollment is ongoing. Please call 310-267-3377 or email peersclinic@ucla.edu to begin the enrollment process.
Application
What are the participation requirements?
Have a diagnosis of Autism Spectrum Disorder or have other social challenges

Be between the ages of 4 to 6 years

Speak consistently and flexibly in phrases or sentences of more than four words

Not have any significant behavioral problems (e.g., aggression)
How can I apply to participate?
Call our office at 310-267-3377

 or 

peersclinic@ucla.edu to complete a 20-minute phone screen with a member of our staff, and subsequently receive an enrollment packet.

Complete and return your enrollment packet.

Parent and child come to UCLA for a 1.5 hour intake appointment with one of our clinicians to determine if our program is appropriate for you and your child.
Dates and Availability
When do groups meet?
Duration: 16 weeks
Planned Days: Tuesday
Planned Terms: Year Round
Planned Frequency: Tuesdays afternoons: 3:30 to 5pm
Cost
Intake appointment self-pay rate: $392 

Group self-pay rate: $182 The initial intake appointment is $560 if using insurance. 

If your insurance company does not cover our program, we offer a reduced self-pay fee of $392 for the intake appointment (30% discount). 

The full fee for group sessions is $260 per week (including both parent and preschool groups) if using insurance, or $182 per week for self-pay (30% discount). 

Please call our office for information about our current fees.
Last updated: April 27, 2020 - 11:43