We have currently paused enrollment. Please check back for updates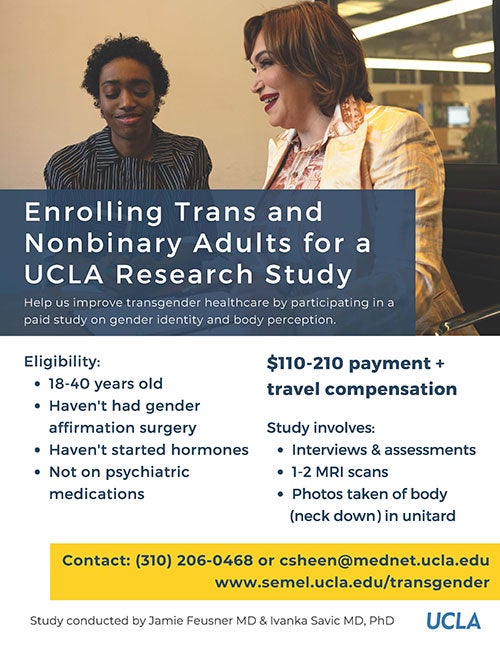 About the Study
To participate in the study, please call (310) 206-0468 or email csheen@mednet.ucla.edu.
We're looking for transgender or nonbinary adults, cisgender gay or lesbian adults, and cisgender heterosexual adult research participants between 18 and 40 years old. Participants will complete assessments and 1 or 2 MRI scans. Participants will also be photographed from the neck down while wearing a unitard. Anyone who chooses to participate in the study may withdraw at any point due to discomfort or any other reason. You will receive $110 - $210 and be compensated for travel. Participants must not be taking any psychiatric medication. Trans and nonbinary participants must not yet be taking hormones or have had gender-affirming surgery.
We understand that some individuals have experienced distress during the study. People who experience high levels of distress when viewing their body may not want to participate. For those who choose to participate, during and immediately following the study, support will be available from peers, family, friends, and/or the study clinician. Our community advisory committee, consisting of transgender individuals from the community and those involved in transgender health and transgender support services, have provided recommendations regarding this and other aspects of the study.
For more information, check out the Participate in Research page or email csheen@mednet.ucla.edu.
What is the purpose of the study? What is gender dysphoria?
We want to understand the neurobiology of gender dysphoria and the interactions between sex hormone therapy treatment, the brain, and the body phenotype. Gender dysphoria is characterized by experiencing a stark contrast between one's gender identity and their gender assigned at birth. Individuals experiencing gender dysphoria, early in development or later in life, discover that their body is incongruent with their gender identity and perception of self.
The overall goal of our research is to improve healthcare for those with gender dysphoria. The purpose of the study is not to induce, or study, dysphoria. Our research is not intended to be used to determine who does or does not receive treatment, nor is it to be used as diagnostic criteria for gender dysphoria.
Director: Jamie Feusner
Site: 760 Westwood Plaza